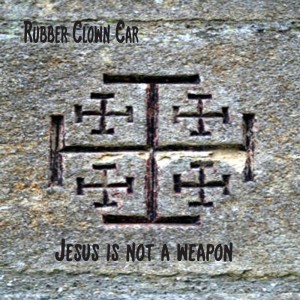 Get it at CD Baby:
http://www.cdbaby.com/cd/rubberclowncar12
Get it at iTunes:
https://itunes.apple.com/us/album/jesus-is-not-a-weapon/id390258989
Lost
(Instrumental)
Forgotten
Super-sized then ostracized
Forgotten
Left behind – didn't fit the times
Forgotten
Left for dead in another's bed
Forgotten
Daddy's boy – never felt the joy
Mommy's pride – but empty inside
Forgotten
Half a man – now it's time you ran
Forgotten
Left alone 'cause you're always cold
Forgotten
Did the crime – now it's rotting time
Why Won't You Talk To Me (In a Language I'll Understand)?
I see you walk around every single day
And I hear the words come out, but still don't know what you say
I wanna get to know you
I wanna know – all about you
Why won't you talk to me (in a language I'll understand)?
Why won't you talk to me?
Why won't you talk to me?
Circcuit
(Instrumental)
Little Secrets
Secrets – I keep from you
Little secrets – you keep from me
Secrets – I keep from you
Little secrets – you keep from me
A question of need
Or a matter of greed
Another way to breed
Insanity
Secrets – you guard so jealously
Secrets – don't take it so personally
Secrets – you guard so jealously
Secrets – don't take it so personally
Behind closed doors
Consulting adults
Questionable motives
But interesting results
Full disclosure is way too painful for me
Tears you cry wash away my courage
Secrets – I keep from you
Little secrets – you keep from me
Secrets – I keep from you
Little secrets – you keep from me
Oh Father
Hey, what do you know?
Hate can bring you anything
Hey, what do you know?
Hate can bring you anything
Oh No
I was young
I didn't know
You were wiser
And you told me so
Hey, what do you know?
Hate can bring you anything
Hey, what do you know?
Hate can bring you anything
Hey, what do you know?
Hate can bring you anything
Hey, what do you know?
Hate can bring you anything
Oh No
Then you lied
I didn't know
Everything changed
Hey, what do you know?
Hate can bring you anything
Hey, what do you know?
Hate can bring you anything
Oh No
Oh Father who ain't in heaven
Do you remember my name?
I trusted you and you let me down
So nothing's changed
I couldn't cry
I didn't know
I kept to myself
Hey, what do you know?
Hate can bring you anything
Hey, what do you know?
Hate can bring you anything
Hey, what do you know?
Hate can bring you anything
Jesus is not a Weapon
Jesus is not a weapon
That's what my mamma told me
He's a god of love from way high up above
And he don't take sides when it comes to human's pride
Son you've got to fight your own battles
No one else can raise the flag for you
If you don't care enough
To take care of that stuff
No one else is gonna pull you through
Jesus is not a weapon
That's what my mamma told me
He's a god of love from way high up above
And he don't take sides when it comes to human's pride
Don't let your luck run you over
Cause your life's not a game of chance
Don't rely on your father, and don't you count on me
To make it right again this time
Jesus is not a weapon
That's what my mamma told me
He's a god of love from way high up above
And he don't take sides when it comes to human's pride
Just step right over it
It's not much of a leap or a jump
Time to dig to the bottom
To look for clues
Jesus is not a weapon
That's what my mamma told me
He's a god of love from way high up above
And he don't take sides when it comes to human's pride
A Whole Man
I can walk I can stand tall
But something 'round the corner is gonna make me fall
I can stand I can scream and shout
But sometimes I don't know what all the yelling's about
I'm not a whole man
I try to be responsibly
Always falling all around
I always try to make my case
I always end up falling much further from grace
I'm not a whole man
My legs work – my hands work – I'm not a whole man
My eyes work – my tongue works – I'm not a whole man
My fingers work – my arms work
I'm not a whole man
Double Doublecrossed
Man did I know it
As soon as you left town
All of my future
Was in the lost and found
Double Doublecrossed
Search until I'm lost
Coming up around the bend
Try potentially
But the jokes on me
I see it in your face
You, you told me
You were coming back
I waited
But the deck was stacked
Double Doublecrossed
Search until I'm lost
Coming up around the bend
Try potentially
But the jokes on me
I see it in your face
Guitar Interlude
(Instrumental)
Lost and Found
Lost and found
Still lost and found
In every eye I see
Strangers just like me
Don't you wanna live forever?
Don't you wanna try?
Wouldn't that all be much better?
I just wanna live 'till I die
Lost and found
Still lost and found
In strangers eyes I saw
Still strangers all along
Lost and found
Still lost and found
Familiar faces now
Seem foreign to me somehow
Don't you wanna live forever?
Don't you wanna try?
Wouldn't that all be much better?
I just wanna live 'till I die
Lost and found
Still lost and found
In strangers eyes I saw
Still strangers all along
Lost and found
Still lost and found
In stranger's eyes I see
Strangers just like me